INVITE PEOPLE TO AN

ONLINE FUNDRAISER FOR YOUR GROUP
THIS CAMPAIGN
HAS CONCLUDED
​
THANK YOU FOR
YOUR SUPPORT
Reserve your spot to host a Virtual Movie Premiere Event. Sign up your organization to book your online fundraising event.
Schedule your event anytime between:
NOW THROUGH APRIL 26, 2021
(your event page will be live for 2 weeks)
HOW IT WORKS
​
- The $500 setup fee has been waived by the State FRTL (and is asked to be re-couped once you have a successful fundraiser)
​
- The movie will be available to stream for $12.99 (discounted from $19.99) to as many guests as you invite

-The page can include your logo and organization info with a link to your website donation page. Example
http://watchroevwade.com/paprolifefederation
​
- We can also embed a pre-recorded video from your leader/organization asking people to make an online donation directly to your organization.
​
​
We will provide you with co-branded event toolkit you can use to invite your guests. Your will also have a custom url: See sample
http://watchroevwade.com/paprolifefederation
​
Included in your Co-Branded Toolkit:
— Trailer & Videos
— Downloadable Printable Invitation
— Web & Social Banners/Posts
— HTML Email Invites
— Photos, Artwork & Logos
​
Click here for sample "Resources"
RAISE MONEY DURING
YOUR EVENT
During the pandemic many organizations have had to cancel their charity events and fundraising initiatives. This gives you an excellent opportunity to share a movie that will motivate and inspire your audience and then give them a simple way to give or get involved with your organization.
​
​
​
You may request an online screener to watch the film before you book for one person in your organization.
​
"This is incredible! It's like being able to add a donate button right next to a premiere of a Hollywood movie
with well known actors on the very thing we are all about!"
— MIKE S.
Frequently asked questions
Does PicStories travel outside the Oklahoma City area?
---
Absolutely! We travel all over Oklahoma, and even out of state. We've been to Fayetteville & Bentonville, Arkansas (You may have seen us at the Annual Fashion Show compliments of Mertins Eye), Texas and many other locations. Travel fees may apply, so just call us! The most common locations are OKC, Tulsa, and Shawnee, but we go wherever there is a need for flipbooks or photobooths.
---
What do you need to set up flipbooks or a photo booth at an event?
---
We prefer a 10' x 10' area (12'x12' area for green screen), but this can be flexible depending on the layout of the venue. We also need one dedicated standard wall outlet. It is great if the venue can provide us with two 6 foot tables (skirted to match the rest of the party), but we have tables if necessary. If your event is outdoors, please notify us in advance.
---
If there's a large group of people in a flipbook, can each participant get a copy of the flipbook?
---
Yes and no. It is very rare for there not to be a long line of people waiting to do make a flipbook. It takes about 90 seconds to make each flipbook, so printing 4 books would cause the next people in line to wait 6 minutes before we can even start shooting their video. To be fair to all guests, we print 2 books per video.
---
How many flipbooks can you make per hour?
---
About 45-50. If this is not enough books for your event, we can double that with a second system for an additional fee.
---
How many people can fit in a flipbook?
---
There's really no right answer to that. Consider several things...It may be possible that not everyone will get a copy. The more people in a flipbook, the less movement can take place. The whole fun of the flipbook is to dance and act goofy, so you want to have some space. A good number is 3-4 people, but you are welcome to have more.
---
What venues has Picstories been to?
---
I won't list them all, there's just too many... To name a few: The Mayo Hotel, Devon Boathouse, Cowboy Hall of Fame, Conocophillips Alumni Center. At one event, there was even an old Delorean-the theme was "Back to the Future!"
---
What in the world is a robot/roaming photobooth??!
---
Watch and be amazed!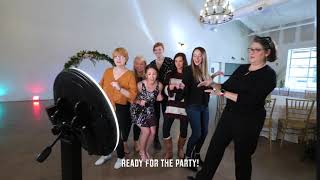 ---
Aren't flipbooks and photobooths the same thing?
---
No, flipbooks are a more interactive version of photobooths. You can actually do a skit in a flipbook during your 7 seconds of video. Our software breaks down that video into still shots that re-create your skit when you flip through it. However, both flipbooks and photobooths are very fun for any event!
---
---
IF YOU WOULD LIKE TO VIEW AN ONLINE
SCREENER BEFORE YOU RESERVE YOUR ONLINE EVENT,
SEND US A REQUEST BELOW.




(LIMITED TIME SCREENER AVAILABLE TO ACCESS BY ONE PERSON PER ORGANIZATION)